We Are Logistics
Ralf Kalauch and Kristian Cuckson – the leaders of Logflex Cargo Logistics GmbH.
Both have many years of experience in logistics and have made outstanding names for themselves in leading positions at prominent companies in the field.
At Logflex Cargo Logistics GmbH the division of labor is clear: Kristian Cuckson handles the west and Ralf Kalauch is responsible for the east. This division allows for the effective implementation of personal know-how, of individual strengths and of accumulated experience.
This is the specialization that results in distinctive benefits for you as the customer. You profit from the extensive and deep expertise that is brought together at Logflex Cargo Logistics GmbH and from the unique cultural flexibility that this expertise allows. All of our knowledge is put to work for you as we advise you – in classic link consulting as well as in organizational transport handling.
Together with you we want to achieve success in the short term and keep it for the long term. We are at your service. And are looking forward to hearing from you.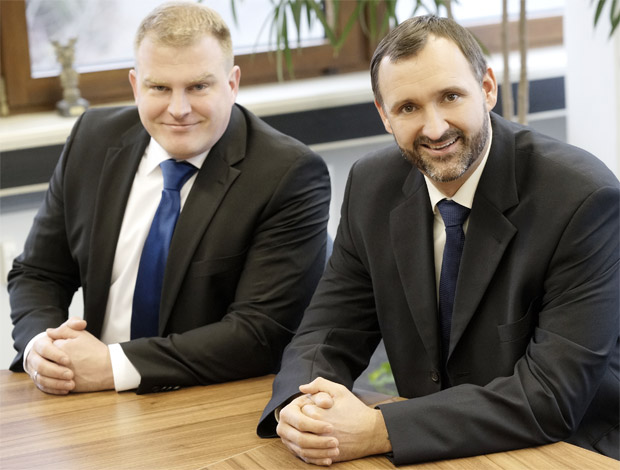 Because We Live Logistics
Every company has a recipe for success.
At Logflex Cargo Logistics GmbH it is our employees. Each of the individuals on our team is a true professional and possesses a distinctive fund of logistics knowledge. We bring together a wide range of different languages in our company – a decisive advantage for logistic services that extend across national and linguistic boundaries.
Our bright and open offices feature short lines of communication. And with a working climate that is at once relaxed and concentrated and always highly effective, we attract the best in new talent in the industry. So that our complete team is not only very experienced but also young and dynamic. Apprentices at the company are typically asked to stay on and join the team as regular employees.
At Logflex Cargo Logistics GmbH you can be sure to encounter a special readiness to get the job done right. And to receive logistic services that meet your individual requirements. Handled by dependable employees that process your complete logistics project from end to end. Who "live logistics" the Logflex Cargo way.
We're looking forward to hearing from you.
Location
Logflex Cargo Logistics GmbH is located at the heart of Europe.
The company headquarters is in Kassel, Germany – a logistics hub at the center of the continent.
Logflex Cargo Logistics GmbH
Werner-Heisenberg-Str. 1
34123 Kassel
Tel.: +49 (0) 561 - 500 49 44-0
Email: This email address is being protected from spambots. You need JavaScript enabled to view it.
Plan your trip with GoogleMaps